Search screen
Introduction
The search screen is the application's main screen, where you can interact with your images.
View Modes
Photo Wall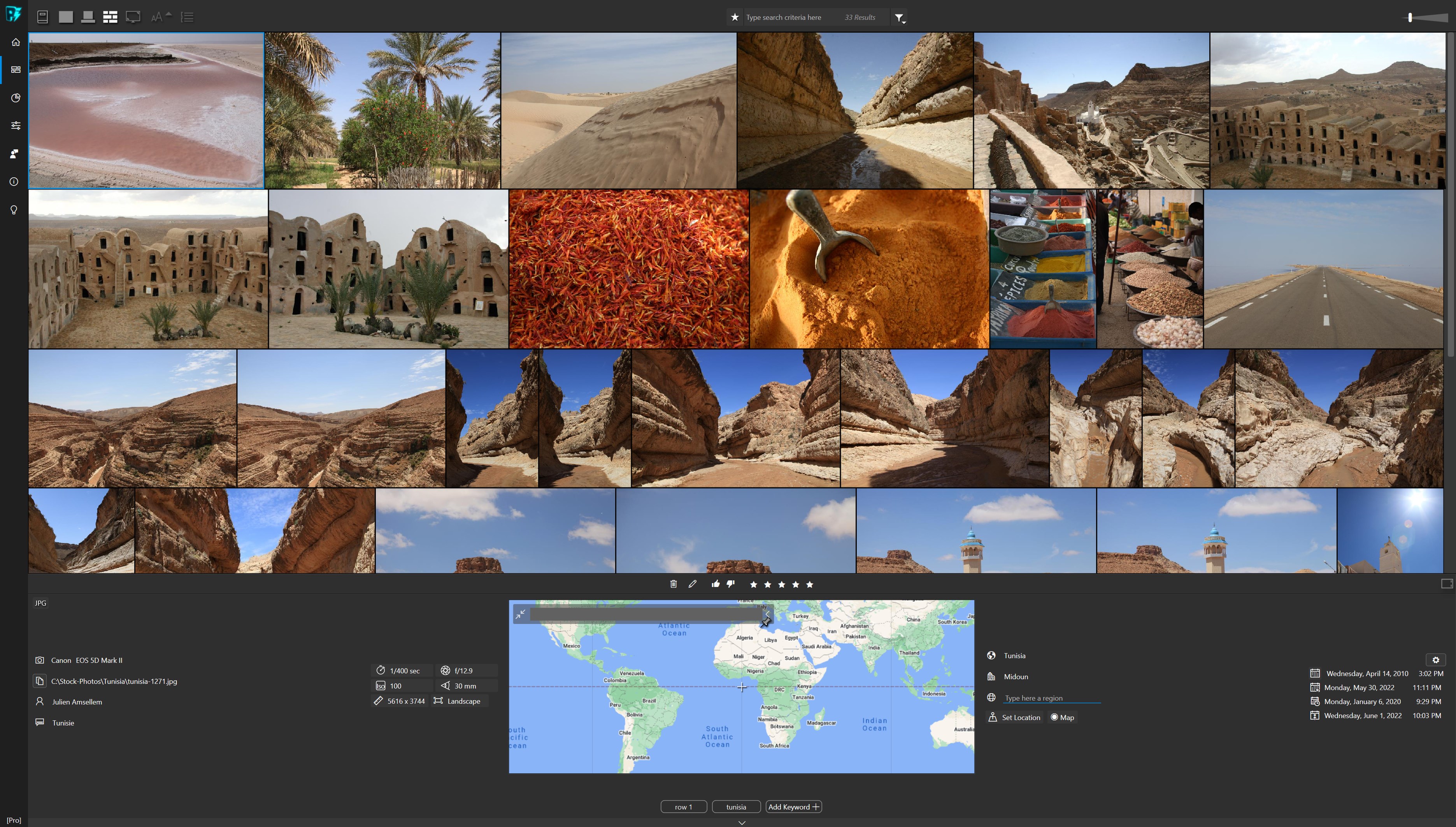 Shortcut
The photo wall lets you visualize many images at the same time and preserve original image aspect ratio (which means thumbnails may have different sizes).
Filmstrip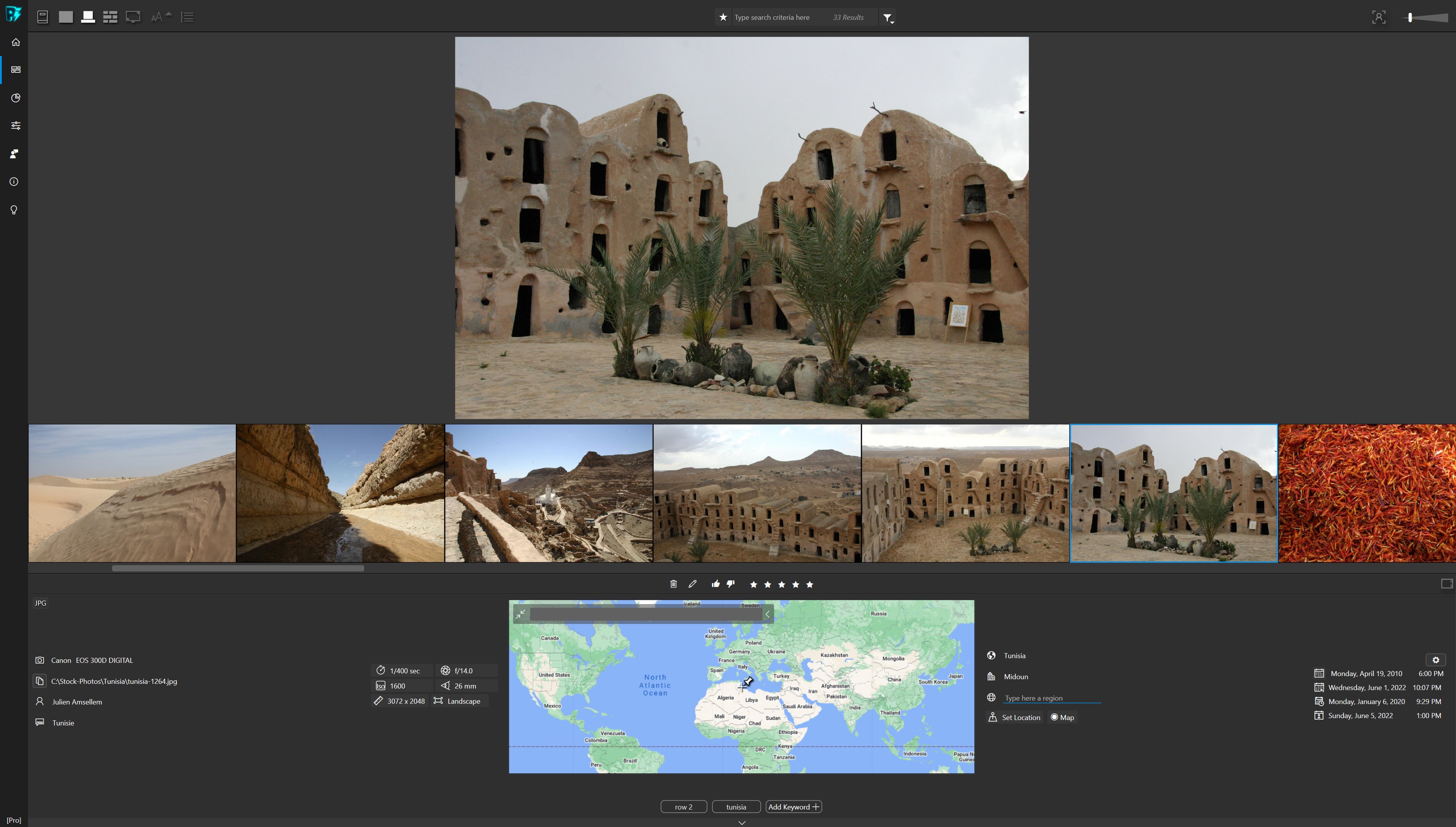 Shortcut
The filmstrip mode displays the list of images as an horizontal list and the currently selected image as a large preview image.
Note
In this mode you can zoom and pan with the mouse the previewed image.
Single Image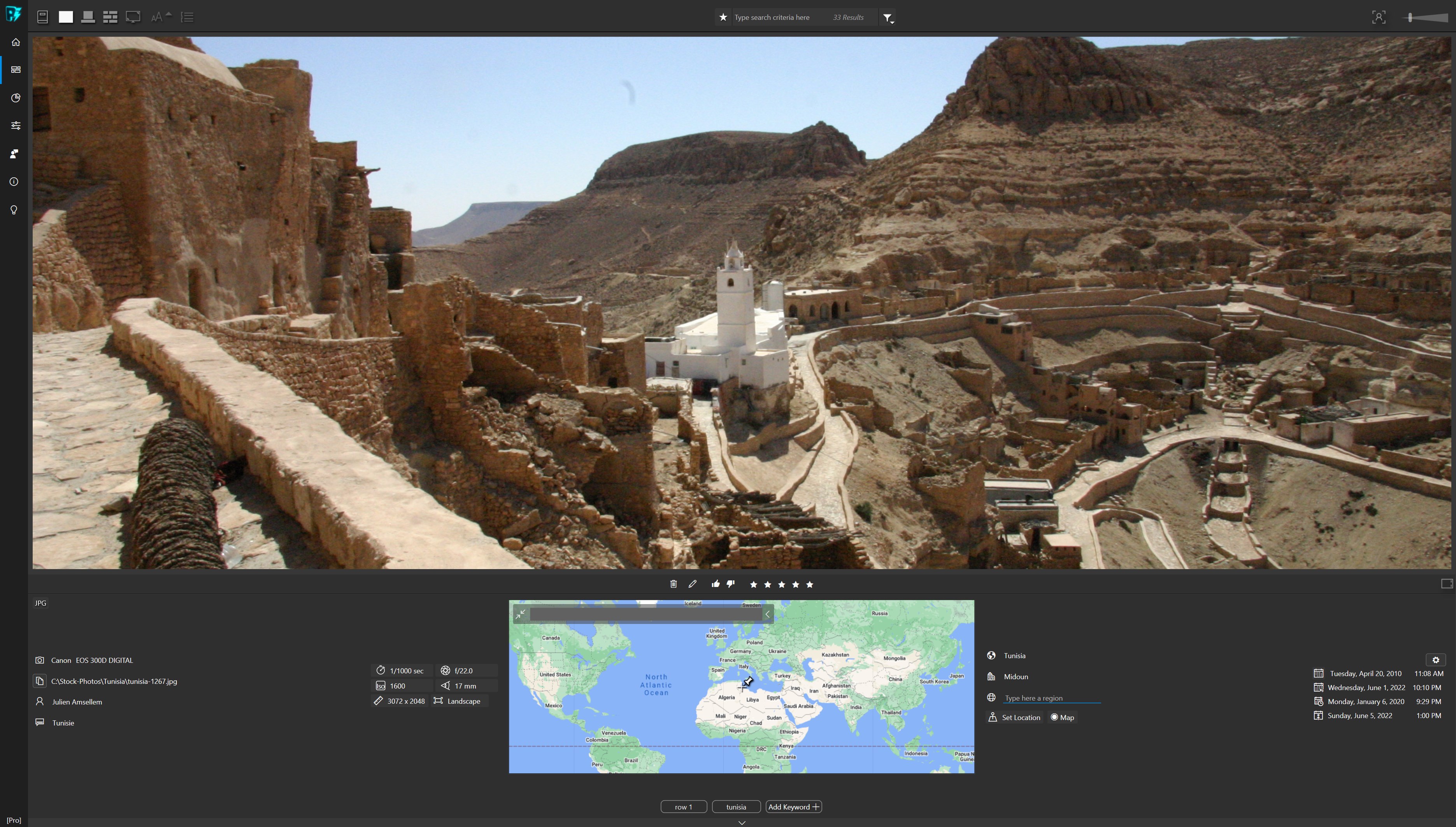 Shortcut
The single image mode only displays the currently selected image as a large preview image.
Tip
You can still navigate through images using the keyboard arrow keys.
Use the mouse wheel to zoom in and out or pan the image.
Fullscreen

Shortcut
You can quickly toggle fullscreen mode thanks to the button shown above.
Sorting results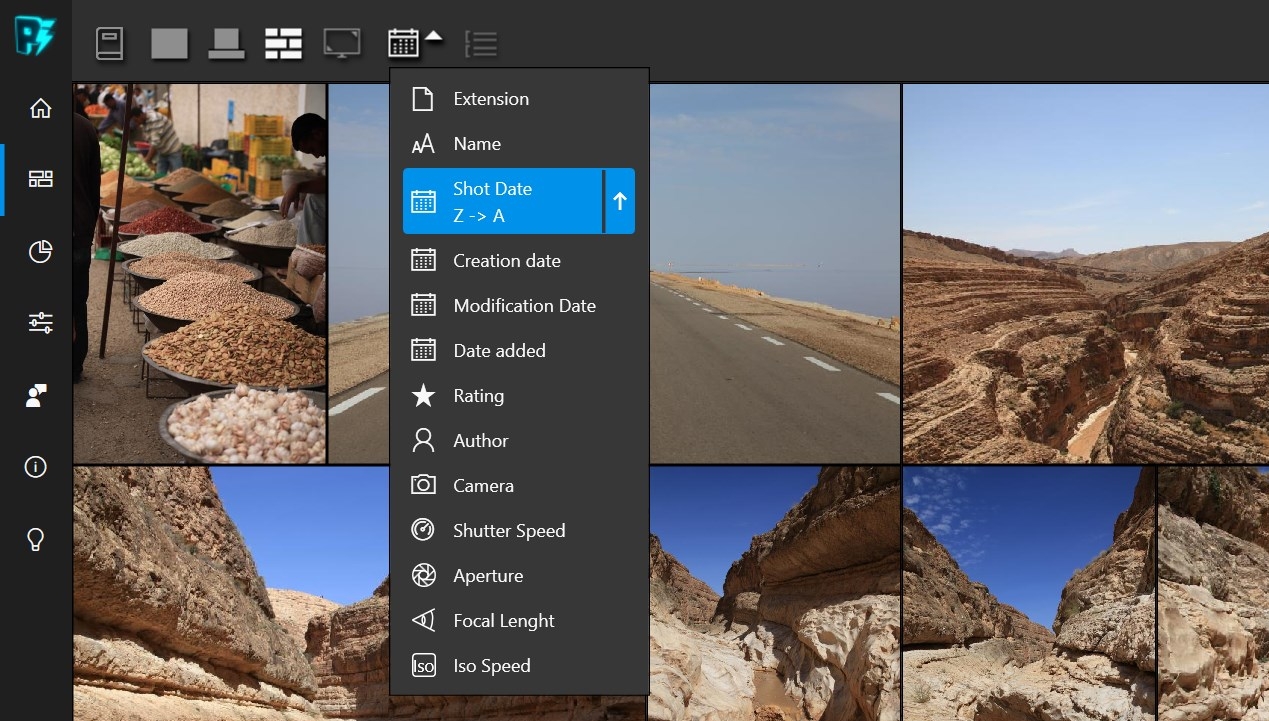 You can sort images according the following list of criteria:
File name
Shot date
File creation date
File modification date
Date added in the database
Rating
Camera (brand & model)
Shutter speed
Aperture
Focal length
Iso speed
Author
Tip
Click on the arrow or next to the criteria name to switch between ascending and descending order.
Searching
Search bar
Shortcut
The omni search bar will match your search pattern against the following image properties:
Dates
Path & file name
Keywords
Author
Comment
Copyright
Camera brand
Camera body
Country
Software
Iso speed
The number of images matching the current search settings is displayed on the right.
To quickly clear the search field you can use the small button on the far right.
Info
The search field is case insensitive so Flower and flower will provide the exact same results.
Date patterns
TBD.
Keywords
You can type in one or more keywords in the search field. If you type in multiple keywords then every images containing one of those keywords will be displayed.
Iso speed
To search photos taken with specific ISO Speed value simply type in the value like
Warning
If you enter an ISO value in the search bar, this same value can also match any other criteria like keyword or file name.
So you may get more results than expected.
Advanced search
Shortcut
In addition to the text field you can also search for images using the following predefined criteria:
Camera body
Iso speed
Keywords
Rating
Country
Shot date
Camera body
If several cameras were used to shoot photos from your library, they will appear in this list, grouped by camera brand. You can have multiple cameras picked at the same, all images taken with any of those will be displayed.
Iso speed
As for cameras, iso speed values are gathered from your library of photos and grouped by standard ISO values. If multiple iso speeds are picked, all images taken with any of those will be displayed.
Warning
Older cameras or exotic brands can define non conventional ISO values
Keywords
Again the keyword drop down menu is filled with values extracted from your library of photos. They are grouped by first letter to navigate quickly to the desired values. If multiple keywords are picked, all images having any of those will be displayed.
Rating
You can select any rating value among
No rating
1 star
2 stars
3 stars
4 stars
5 stars
You can also filter by pick and reject criteria
Undefined
Picked
Rejected
All kind of combination between rating and pick&reject will produce a logical OR operation.
Exemple
5 stars
picked
The selection above will display all images with 5 stars or picked
Countries
The countries are extracted from GPS metadata that your photos may have. They are grouped by country's first letter.
Shot date
You can filter images by shot date criteria using the PhotoInsight custom calendar. The calendar covers dates from the oldest photo to the latest photo. To help you pick meaningful dates, days are highlighted when at least one photo was taken this day.
Info
Selected multiple contiguous dates by using the Shift key or scattered dates using Ctrl key.
Reset filters
The small right most button can be used to reset all advanced criteria (but not search pattern)
Thumbnails

You can adjust the thumbnail size when the view mode is set to Photo Wall or Filmstrip
Tip
You can also adjust the thumbnail size using the shortcut Ctrl+Mouse Wheel.
Info
This adjustement only affect the size on screen, not the thumbnail quality. If you want to change the thumbnail quality you should check the Settings screen documentation.
Selection
You can select one or multiple images.
Selected images have a blue frame.
To select multiple images you can either:
Select a first image, then keep Shift key pressed and click on another image. All images between the first and the last one will be also selected.
Keep Ctrl key pressed and click each image you want to select.
Context menu
Access to a contextual menu by right clicking on an image.
External applications
At the top of the context menu are open with options that lets you quickly open an image in an external application. PhotoInsight automatically detects if any of following software are installed on your computer:
Adobe Photoshop
Adobe Lightroom
DxO PhotoLab
Capture One
Affinity Photo
ON1 Photo RAW
Of course you can add more applications to open your images, see the dedicated section in the Settings screen documentation.
Info
Of course you can also open it in Windows Explorer
Exclude folder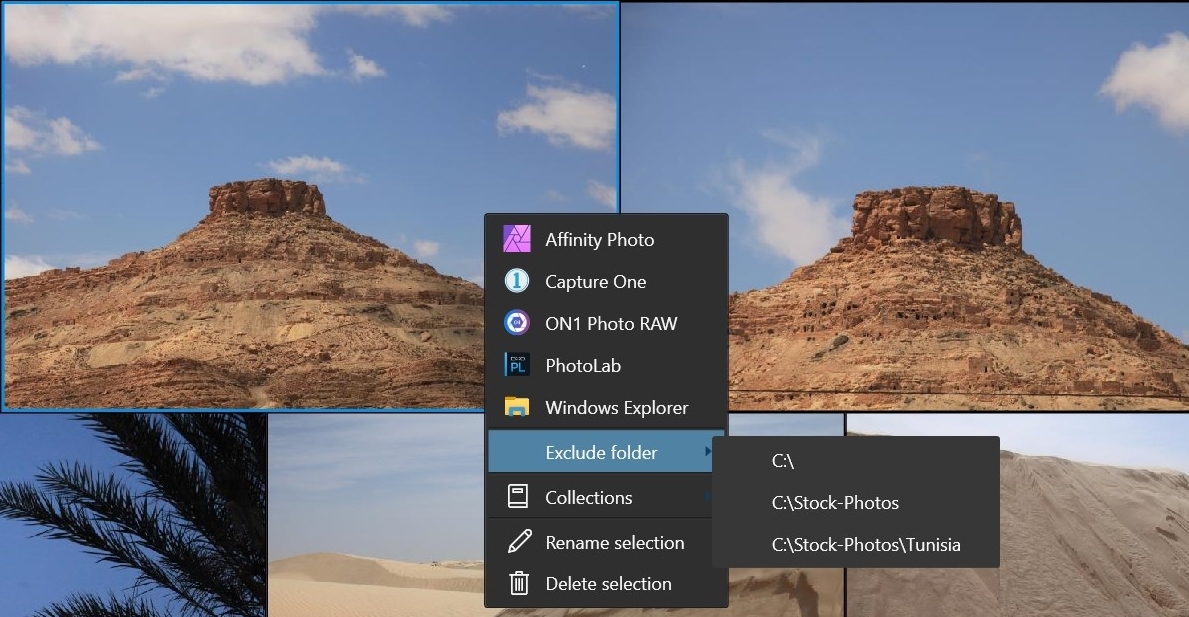 If you find images that you'd like to exclude from PhotoInsight database you can quickly exclude any level of folder thanks to this option.
Details panel

When an image is selected the details panel provides information about the image:
Camera brand and model
File path
Author
Shot date, modification date, creation date and date added to PhotoInsight
Shutter speed
Aperture
Iso speed
Focal length
Keywords
Rating
Pick & reject
This panel also lets you perform some actions:
[Starer] and [Pro] editions:

Delete selected images
Copy file path into the clipboard

[Pro] edition only

Change rating
Change pick & reject
Add / remove keywords
Tip
If multiple images are selected, actions will be performed on all selected images
Copy file path
To copy the selected image file path into the clipboard simply click on the icon next to the file name like demonstrated in the video above.
Add keywords
Adding multiple keywords in a row is easy because as soon as you enter a new keyword, a new keyword place holder appears so you can type in the next keyword immediately without moving your hands out of the keyboard. When you're done, simply press Escape key or click somewhere else.
Change rating
Shortcut
Use the star icons to set the expected rating or use number keys shortcut (0,1,2,3,4,5)
Change pick & reject
Shortcut
To pick an image click on the icon and to reject click on the icon.
If you want to clear pick or reject, simply click again on the selected icon.
Delete image(s)
Shortcut
You can delete selected images using the keyboard shortcut or the button with icon
Bookmarks
Create

Bookmarks are dynamic collections allowing you to save a filter configuration and recall it later. To create a new bookmark:
click on the button in the search field left side
a small popup is displayed
set a category name
set a bookmark name
press Enter or click on Save button
Warning
You can add a new bookmark only if at least one filter is set (either advanced or search pattern)
Load a bookmark
Bookmarks are accessible in advanced filtering criteria and are grouped by category. When you select a bookmark it will simply restore filter settings and matching images will be displayed.
Collections

Shortcut
The collections are presented in a dedicated panel than can expand and collapse (it's collapsed by default).
Use the shortcut or the button to expand or collapse the panel. Contrary to the bookmarks, collection are static sets of images.
Create a collection
To create a new collection:
select images to include in the new collection
expand the collection's panel
click on button (a book with a + sign)
set a name for the collection
press Enter or click on the Save button
Tip
If a single image is selected all images displayed in the photo wall will be added to the collection.
If you have selected more than one image (with Shift or Ctrl click) only the selected images will be added to the collection.
Rename
You can rename a collection by double clicking on it in the collection's panel, type in a new name and validate with Enter key.
Sorting
Collections can be sorted by the following properties:
Name
Creation date
Number of images